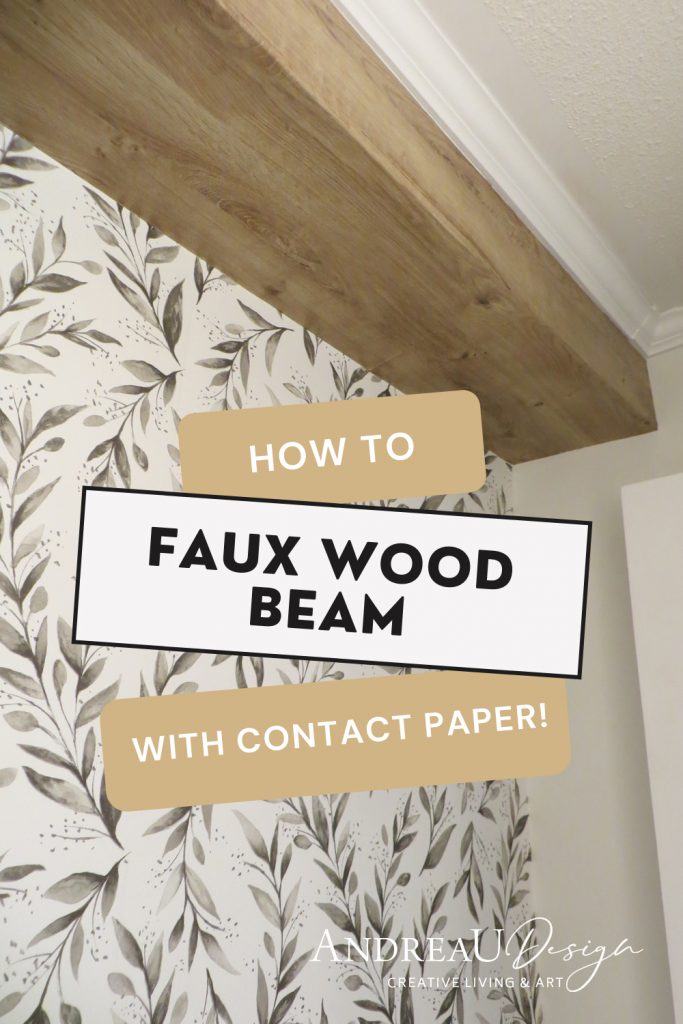 Anyone else have an awkward dry walled bulkhead protruding into their room?? When I first redid our powder room over 9 years ago, I was tossed on what to do with this strange thing. I know it has a function but if you paint it, do you make it the colour of the walls or of the ceiling? Or do you paint it half and half?? I ended up just painting the whole thing to match the wall and was hoping it wasn't too obvious of an obtrusion!
This time around was different. I knew exactly what I wanted to do with it; contact paper with a wood grain to make a faux wood beam look! The warmth of wood accents coupled with cooler hues and an absolutely gorgeous wallpaper was going to make the bulkhead seem like a deliberate choice this time. Contact paper is super inexpensive, one roll cost (on sale) less then $15 CDN! It's washable (I know this because I used faux marble contact paper on my countertop for a year!) and the wood grain is really quite convincing!
Researching the Project
With all these thoughts in mind, I went to my time-honoured resource, Google to see if anyone else had tried out my idea. Whenever I have a new DIY project to tackle, I always put in the research to see what others have done and if it worked for them. If it only partially worked then I look for others who may have succeeded where the first had failed. There are always little nuances that have been overlooked or differences in my projects from that of others and I like to cover all of my bases so that I know ahead of time if something will work and what obstacles I may encounter.
This wasn't any different. In this case, I couldn't find anyone who had covered a bulkhead with contact paper to look like faux wood and what it would look like if they had. That's another thing. I need to know ahead of time what something will look like and make sure it fits the vision for my space. This can be either by seeing someone else's work or making a mock up of it myself in Photoshop.
Take a look at this super rough idea that I quickly threw together!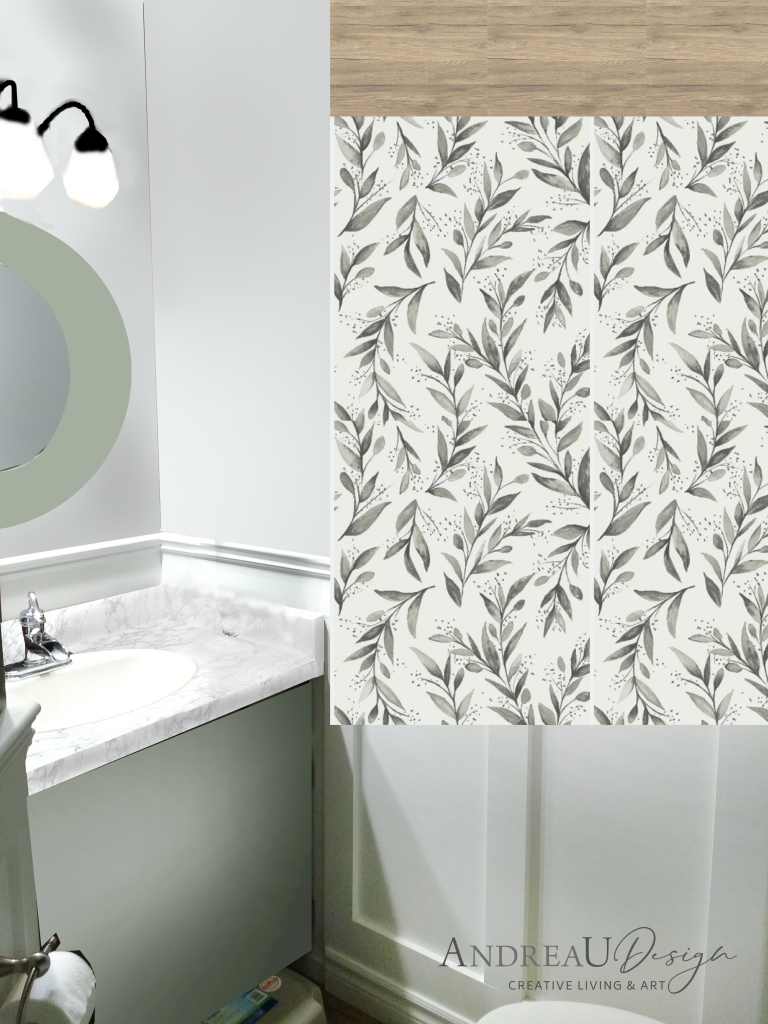 Pretty basic but it let me know that my ideas would at least work together! So knowing that, I could get to work on my powder room refresh! Painting everything, including the marble look countertop, walls, vanity, and even light fixture came first. The faux wood beam was one of the last things on the list to complete.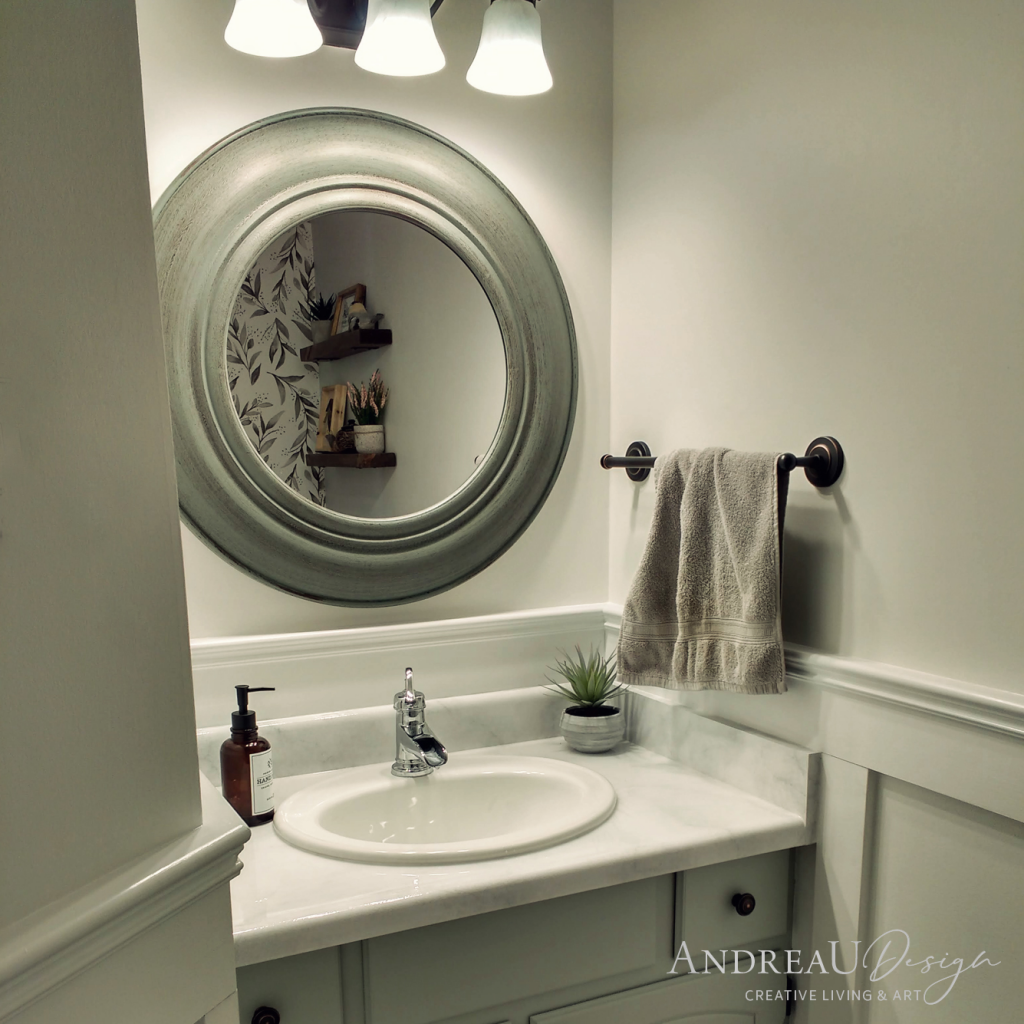 While I was finishing up the other elements and putting up the wallpaper (which btw, I absolutely love! – Joanna Gaine's Magnolia Home Olive Branch in charcoal), I had to choose which contact paper to use. I wasn't sure which wood grain I wanted and everything always looks different if you buy it online so I ordered a few different ones from my local Home Depot and Lowes so I could see which one I liked best. It didn't help that all of the different choices I received were named "Oak" or "Dark Brown Knotty Wood" online so I would recommend either looking at them in person or buying several so you can look at them in your space.
The one I chose ended up being the Ribbeck Oak by d-c-fix. I loved the light, warm tones and the knots in it. It definitely looked the most realistic! Oh and remember to measure your bulkhead to make sure that you purchase enough. I only needed one 26″ x 78″ roll for the two faces on my bulkhead which resulted in no seams.
So getting onto the actual project!
What You'll Need
Here are the tools I needed for this specific DIY job:
d-c-fix® Ribbeck Oak (I used less than one roll of 26″ x 78″ for the two faces of my bulkhead)
exact-o or utility knife with a new sharp blade
ruler
old credit card or something for smoothing
ladder
good lighting 🙂
I had already painted my bulkhead previously and also had recently painted the wall beside and below. You wouldn't want to apply it to raw drywall because you'll never be able to remove it later! You could probably get away with putting it on plain primer though. In preparation, I made sure that the new paint had time to cure before cleaning the surface thoroughly with diluted vinegar and then washing that off with just water.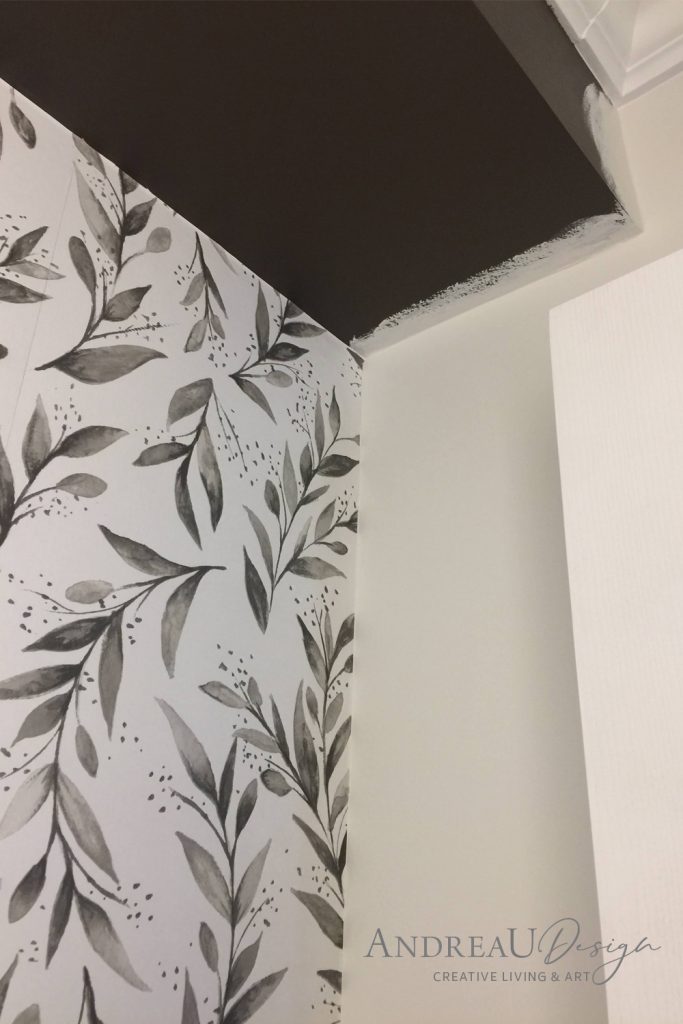 Applying the Contact Paper to the Bulkhead
So starting in the top left corner ( I usually start in a corner and go clockwise around a room when I paint and this was no different) I got up on my ladder and took the backing off of a little bit of the contact paper. I had made sure that I liked the orientation of the sticky paper and started to apply it. I left a bit of excess on the side and top, then slowly started sticking it onto the topmost portion of the vertical surface of my bulkhead.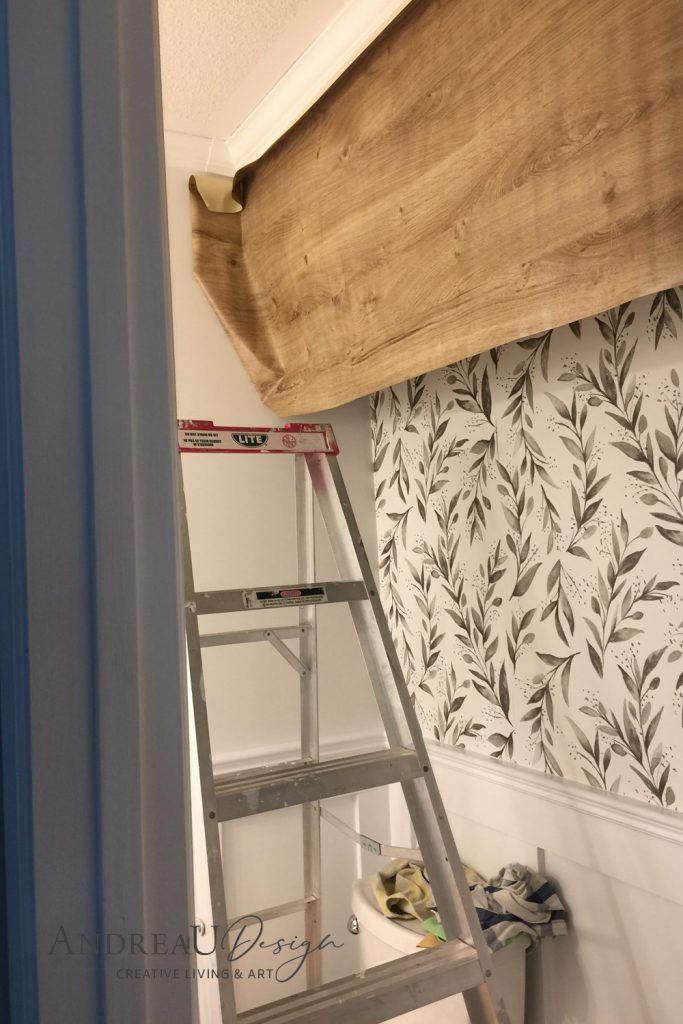 Once it was lined up so that the wood grain was fairly level then I started slowly smoothing it down with the old credit card. I moved all the way across the bulkhead until I got to the other side.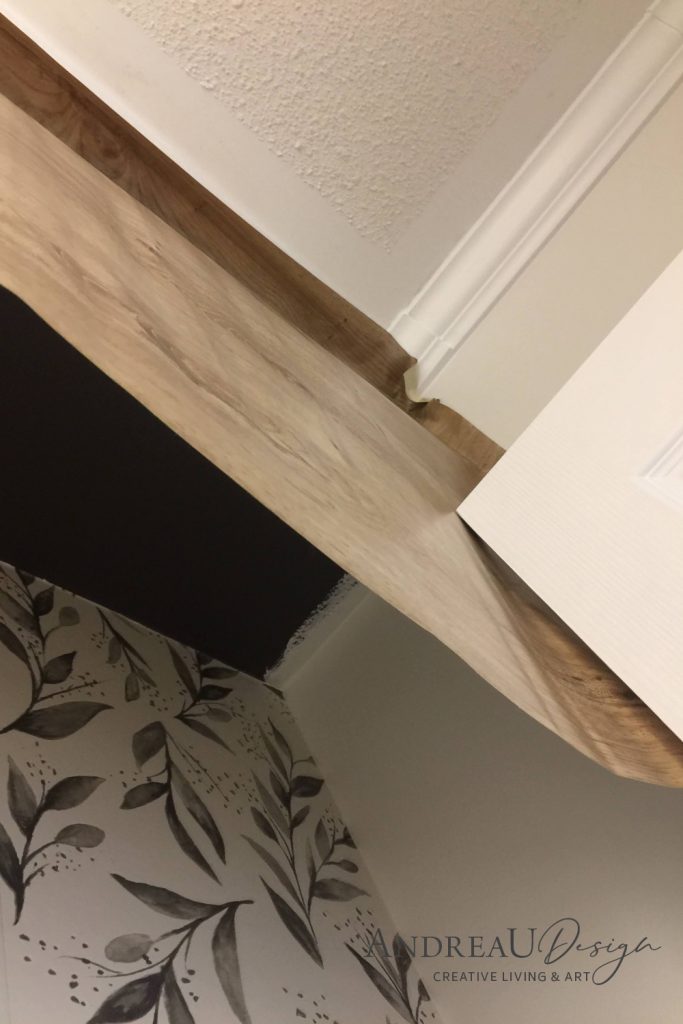 At this point, I got out the ruler and exact-o knife to trim off the excess along the top. I just slid the ruler along and cut slowly and carefully along it to get a straight line.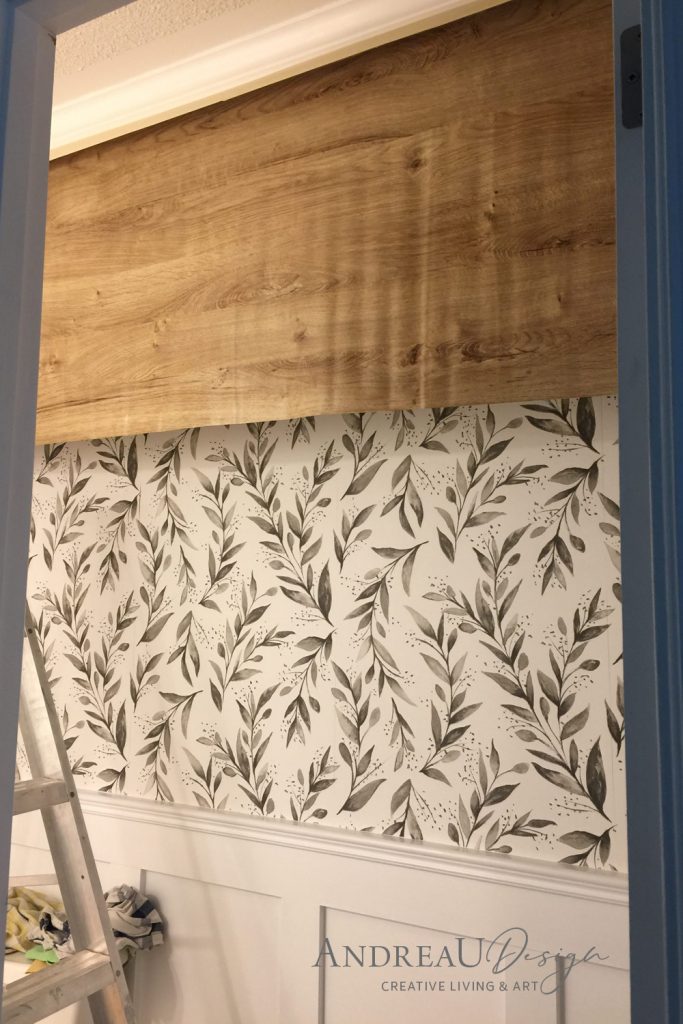 The next step was to fold the contact paper over and attach it to the underside of the bulkhead. This was a little easier said then done as it was really sticky and huge! It took a few tries to successfully fold it over and adhere it in a reasonably straight manner. It doesn't help that walls are never perfectly straight either! In retrospect, this really should have been a two person job so that the paper didn't stick to the wall before it was aligned properly.
I did get it folded over eventually and smoothed out with the credit card. There were a few creases/air bubbles that fortunately weren't too unsightly and look like they are part of the wood grain. This would not be the case if it were a less forgiving pattern!
Next, I trimmed the excess around the edges with the exact-o knife and ruler to finish it off.
All in all I was quite happy with the finished product of this faux wood beam and very happy with the price tag! If I was to do it again, I would get my hubby to help hold the contact paper to make sure it didn't fold over on itself or stick to the wall when it shouldn't. Otherwise, I would totally apply this elsewhere if I had another awkward bulkhead to cover!!